2016 Captain's Charity - Midlands Air Ambulance
We are proud to be raising funds and raising awareness for this year's chosen Captain's Charity Midlands Air Ambulance.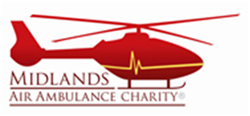 Midlands Air Ambulance Charity is directly responsible for funding and operating three air ambulances serving the communities of Gloucestershire, Herefordshire, Shropshire, Staffordshire, Worcestershire and the West Midlands.

Midlands Air Ambulances have responded to more than 42,000 incidents since 1991 and have saved countless lives, being able to reach specialist hospitals from anywhere in the region in less than 15 minutes. Airlifting a casualty to hospital within one hour of an incident greatly increases their chance of survival which is why Midlands Air Ambulance is so vital in an emergency situation.

Receiving no government or national lottery funding, the service relies totally on donations from the public and local businesses and we are very proud to help support this amazing and worthwhile cause.
Captain's Charity Raffle
Tickets on sale from the bar, great prizes to win for all car enthusiasts.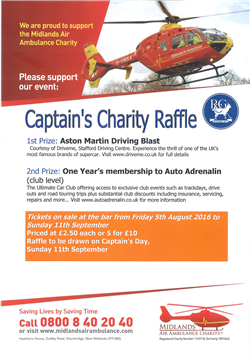 Some great prizes to be won on our Captain's Charity Raffle with all proceeds in aid of our Captain's Charity, The Midlands Air Ambulance.
Tickets priced at £2.50 or buy 5 for £10!
Available form the bar - Draw will take place on Sunday 11th September
Captain's Closed Bid Auction
Bid for a beautiful original watercolour by local artist John R Harris.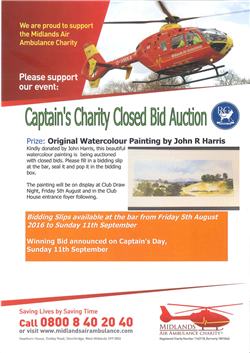 Bidding slips available from the bar. Simply fill in and pop it in the box located at the bar. This beautiful watercolour kindly donated by John Harris will be available to view in the club house until the winning bidder is announced on Sunday 11th September.